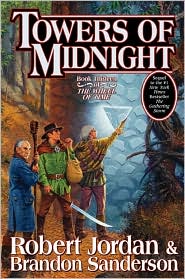 Here's a list of the the Fantasy and Science Fiction books scheduled to be released in November. It's going to be a hell of a month, with the next book in Robert Jordan's Wheel of Time series, a collection of stories from George R.R. Martin, and Tad William's latest Shadowmarch entry all hitting shelves within just days of each other. Make your list and adjust your budget accordingly!
Hardcover
Above His Proper Station
– Lawrence Watt-Evans
Echo
– Jack McDevitt
Empress of Eternity
– L. E. Modesitt, Jr.
Hull Zero Three
– Greg Bear
The Human Blend
– Alan Dean Foster
Knot Gneiss (Xanth)
– Piers Anthony
Microcosmic God, Volume II
– Theodore Sturgeon
Midsummer Night
– Freda Warrington
On the Banks of the River of Heaven
– Richard Parks
Shadowheart: Volume Four of Shadowmarch
– Tad Williams
Songs of Love and Death
– George R. R. Martin
Star Trek: U.S.S. Enterprise: Haynes Manual
– Ben Robinson
Star Wars: Fate of the Jedi: Vortex
– Troy Denning
Surrender to the Will of the Night
– Glen Cook
Sword of Fire
– William McGrath
The Ultimate Egoist, Volume I
– Theodore Sturgeon
Towers of Midnight
– Robert Jordan & Brandon Sanderson
Trio of Sorcery
– Mercedes Lackey
Trade Paperback
The Adventures of Professor Thintwistle and His Incredible Aether Flyer
– Richard Lupoff
Agon
– Scott Burn
The Alchemist in the Shadows
– Pierre Pevel
At the Queen's Command
– Michael Stackpole
The Barsoom Project
– Steven Barnes
Beloved of the Fallen
– Savannah Kline
Bitten in Two
– Jennifer Rardin
The Book of Elizabeth
– Darby Harn
The Broken Kingdoms
– N. K. Jemisin
The Buntline Special
– Mike Resnick
Carousel Tides
– Sharon Lee
The Complete Hammer's Slammers, Vol 3
– David Drake
The Double-Edged Sword
– Sarah Silverwood
DragonLance: War of Souls Omnibus
– Margaret Weis & Tracy Hickman
Elfsorrow
– James Barclay
Elminster Ascending
– Ed Greenwood
Fall From Earth
– Matthew Johnson
Flaming Zeppelins
– Joe Lansdale
Forgotten Realms: Year of the Rogue Dragosn
– Richard Lee Byers
The Habitation of the Blessed
– Catherynne Valente
Heavy Metal Pulp: Money Shot
– Christopher Rowley
House of Discarded Dreams
– Ekaterina Sedia
In Dreams Begin
– Skyler White
Jasmyn
– Alex Bell
The Magic Labyrinth
– Philip Jose Farmer
Marion Zimmer Bradley's Sword of Avalon
– Diana Paxson
Merc
– Jerry Brown
Muse and Reverie
– Charles De Lint
Mysteries of the Diogenes Club
– Kim Newman
Pax Britannia: Dark Side
– Jonathan Green
Pax Britannia: The Ulysses Quicksilver Omnibus
– Jonathan Green
Pirate Sun
– Karl Schroeder
Pump Six and Other Stories
– Paolo Bacigalupi
The Quantum Thief
– Hannu Rajaniemi
Robin and the King
– Parke Godwin (reprint)
The Scientific Adventures of Barn Munchausen
– Hugo Gernsback
Shadowheart
– James Barclay
Sherwood
– Parke Godwin (reprint)
Sleeping Helena
– Erzebet Yellowboy
Sojan the Swordsman/Under the Warrior Sun
– Michael Moorcock
Steampunk II: Steampunk Reloaded
– Ann VanderMeer, Ed.
The Stranger
– Max Frei
The Way of the Wizard
– Peter Beagle
We Can Fix It: A Time Travel Memoir
– Jessica Fink
Wolfsbane and Mistletoe
– Charlaine Harris and Toni Kelner, Ed.
Worlds of Fantasy: The Best of Fantasy Magazine
– Jeffrey Ford, Ed.
Mass Market Paperback
Agent to the Stars
– John Scalzi
The Battle for Commitment Planet
– Graham Sharp Paul
Black Wings
– Christina Henry
Blood Prophecy
– Stefan Petrucha
Book of Secrets
– Chris Roberson
Brooklin Knight
– C. J. Henderson
Catalyst: A Tale of the Barque Cats
– Anne McCaffrey
City of Dreams and Nightmares
– Ian Whates
Cobra Alliance
– Timothy Zahn
Damage Time
– Colin Harvey
Destroyer of Worlds
– Larry Niven
Dragon Champion
– E. E. Knight
Eureka: Brain Box Blues
– Chris Ramsay
First Lord's Fury
– Jim Butcher
Forgotten Realms: Avenger
– Richard Baker
Forgotten Realms: Lady Ruin
– Tim Waggoner
Forgotten Realms: Whisper of Venom
– Richard Lee Byers
Gilded Latten Bones
– Glen Cook
The Golden Shrine
– Harry Turtledove
Guardians of the Phoenix
– Eric Brown
Heaven's Spite
– Lilith Saintcrow
Indigo Springs
– A. M. Dellamonica
King's Wrath: Book 3 of the Valisar Trilogy
– Fiona McIntosh
Magic at the Gate
– Devon Monk
Of Masques and Martyrs (reprint)
– Christopher Golden
Prince Charming Doesn't Live Here
– Christine Warren
The Road to Bedlam
– Mike Shevdon
Servant of a Dark God
– John Brown
Servant of the Underworld
– Aliette de Bodard
Silver Zombie
– Carole Nelson Douglas
The Silver Mage
– Ktherine Kerr
Soul Stealers
– Andy Remic
The Spirit Rebellion
– Rachel Aaron
Star Trek: Seize the Fire
– Michael Martin
Steampunk'd
– Jean Rabe
Trolls in the Hamptons
– Celia Jerome
Unusual Suspects
– Dana Stabenow
Vicious Grace
– M. L. N. Hanover
Warhammer: Wulfrik
– C. L. Werner
Werewolf Smackdown
– Mario Acevedo
Wolfsbane
– Patricia Briggs
World of Warcraft: Stormrage
– Richard Knaak