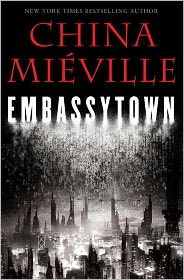 Bestselling author China Miéville of
Perdido Street Station
and
The City & The City
will be making a series of appearances across the U.S. and in Canada to promote his latest novel,
Embassytown
, which will be released by Del Rey on May 17th.
Embassytown
is the author's first foray into science fiction and, by all accounts, looks to be novel worth lining up for.
Visit the China Miéville's blog, the
Rejectamentalist Manifesto
, or friend him on
Facebook
.
Tues., 5/24
– Harvard Bookstore,* Cambridge, MA @ 6:00pm
*Note: This is a ticketed event held at the Brattle Theater. Buy tickets here.
Wed., 5/25
- Toadstool Bookshop, Lorden Plaza, Milford, NH @ 7:00pm
Thurs., 5/26
- World's Biggest Bookstore, Toronto, ON @7:00pm
Sat. 5/28
– University Bookstore, Seattle, WA @ 7:00pm
Sun., 5/29
– Powell's Bookstore, Portland, OR @ 4:00pm
Tues., 5/31
– Barnes & Noble, Roseville, MN @ 7:00pm
Wed., 6/1
– WORD Bookstore,* Brooklyn, NY @ 8:00pm
*Note: This is a ticketed event held at Public Assembly. Purchase tickets here.